Triangle Pump Components, Inc. (TPCI) is proud to announce the launch of our newly redesigned website, a huge stride in our continuous efforts to create the best possible experience for our customers. With the new sleek, streamlined profile, customers will be able to easily navigate our site to find product information, industry news, and a wealth of additional online resources.
What's Different?
You will notice that we've added several pages and features to our website to share product and industry information with our customers.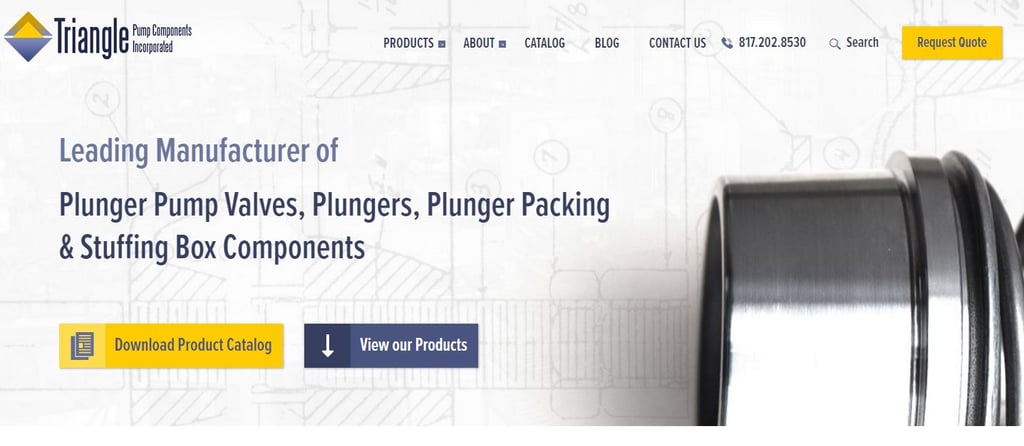 Important new elements of our website include:
Blog – We've developed a new blog section to share posts about solutions to frequently asked questions, customer success stories, and updates on industry trends. Triangle customers can browse the blog to stay up to date with the latest pump valve news.
Product Sections – All of our products, including our historic Durabla® valve, can now be found online. Customers can search our product catalog to read descriptions about features, capabilities, sizes, and common applications of each style of valve.
Request a Quote Form – Getting started on an order is easy with our new Request a Quote form, permanently found on the top bar of our website. Customers can now simply click a button to fill out the form and get in touch with a Triangle representative about a product.
Content Updates – We are thrilled to unveil the new website design to our customers and we will continuously update the site with original content. Be sure to check back often to stay up to date on all of the latest products and happenings.
Head over to our website to see it for yourself and let us know what you think about the new design. As always, contact Triangle Pump with any questions.