Known for manufacturing efficient, long-lasting, and reliable pump products, Triangle Pump Components depends on a strong team to deliver the highest quality pump components to our customers. When a company's commitment to quality is as tenacious as ours, we strive to hire the best possible candidates for each position across our team.
We recently hired two talented and highly qualified individuals to fill the roles of application engineer and inside sales manager, and we are proud to introduce them here. Join us in welcoming Cedric Hill and Chris Frillmann to the Triangle Pump Components family!
Introducing Cedric Hill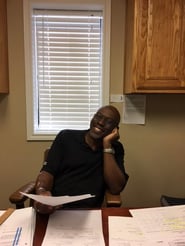 Cedric's unique combination of education and experience make him well-suited for the role of applications engineer. After receiving his Associate in Engineering Technology in the early 1990s, Cedric later majored in mathematics at Indiana University. His education provided the quantitative skills and engineering knowledge necessary for his former roles as Project Engineer and Project Manager.
Cedric's previous responsibilities included applications engineering and remote support, component research, contract review, customer management, sales support, procedural development, and the design/augmentation of electrical equipment and systems to meet the needs of his clients. These skills will allow Cedric to quickly adapt to the needs of our clients while providing a fresh and positive perspective as we move forward as a company.
The Role of an Application Engineer
An application engineer at Triangle Pump Components is responsible for a variety of tasks, including product design, upgrading our ISO 9001 certification to the newest available version, fielding customer orders at our Cleburne office, and optimizing our inventory software to ensure our ability to provide timely delivery services to our customers.
We are confident that Cedric will excel in his new role at TPCI and make a significant impact on the team.
Introducing Chris Frillmann
With more than 15 years of experience, Chris has a solid background in valve sales that is directly applicable to Triangle's product lines and makes him well qualified for his new sales management role. He is comfortable providing sales support, application engineering guidance, managing order quotes, troubleshooting product solutions, and collaborating with vendors, fabricators, and customers alike.
The Role of an Inside Sales Manager
Leading the inside sales team, the inside sales manager takes primary responsibility for managing customer orders by fielding incoming customer orders at our Oklahoma City office. Chris and the other skilled salespeople on the Triangle Pump Components team will be engaging with existing customers to place recurring orders and reaching out to new contacts to further expand the TPCI customer base.
We look forward to seeing the new sales Chris brings to the Triangle Pump Components team!
Growing the Triangle Pump Components Team
Triangle Pump Components' commitment to producing the best pump components for our customers means that we will always seek the best candidates to further strengthen our capabilities. We are excited that Cedric and Chris are coming on board and believe they will be real assets to our team.
To learn more about Triangle Pump Components' commitment to quality, our manufacturing history, and our range of products, check out our Company Brochure.
Or check out our top blogs like these: